Proyectos
Sense of Values Quartet.
Primer trabajo de Sense of Values, el disco titulado  «Atmosphere». SOV Quartet manda un primer mensaje de agradecimiento.
» SOV Quartet quiere dar las gracias en primer lugar a los más cercanos por su incondicionalidad, pero también, por supuesto, a todas aquellas personas, muchas de ellas casi invisibles, que con su apoyo, paciencia, una sonrisa o un comentario oportuno, han contribuido a que este proyecto crezca desde sus inicios. A todos los que nos habéis animado y estimulado, queremos dar, de corazón, nuestro más sincero agradecimiento.»
«

The SOV Quartet would like to thank first of all those closest to us for their unconditional support, but also all those people who have sometimes inadvertently contributed to this project since its inception with their patience, a constructive observation or a smile. To all of you who have encouraged and inspired us, our most heart felt gratitude.»
José Ignacio Marula.
Conocí la palabra Marula como un fruto de propiedades alucinógenas, que algunos animales buscaban para comer, caminando, incluso, cientos de kilómetros para conseguirlo. Así fue como se decidió denominar al trío liderado por el pianista José Ignacio Hernández. Es este un trío de raíces jazzísticas que tiene la improvisación como denominador común, donde cada uno de sus miembros ha recorrido un sin fin de kilómetros de su particular viaje musical para de alguna manera intentar que el espectador disfrute de esta puesta en común. José Ignacio Marula eatá compuesto además por el maestro Julio Pérez a la batería y Miguel Ángel Pimentel al contrabajo interpreta tanto temas propios como clásicos estándars del cancionero americano con particulares arreglos y un estilo muy personal.
José Ignacio Marula.
Marula is a fruit with hallucinogenic properties that animals walk up to hundreds of kilometers to enjoy. With this idea in mind, it was decided that the trio, lead by Jose Ignacio Hernández, would be called José Ignacio Marula. Every one of its musicians has covered innumerable kilometers of their own personal musical journeys. This is a group with strong jazz roots and but with improvisation as its common denominator. Together they create an impromptu musical voyage for their audiences using their own songs as well as classical American themes with their own personal twist. José Ignacio Marula is composed of Julio Pérez on the drums, Miguel Ángel Pimentel on the double bass, and José Ignacio Hernandez on the piano.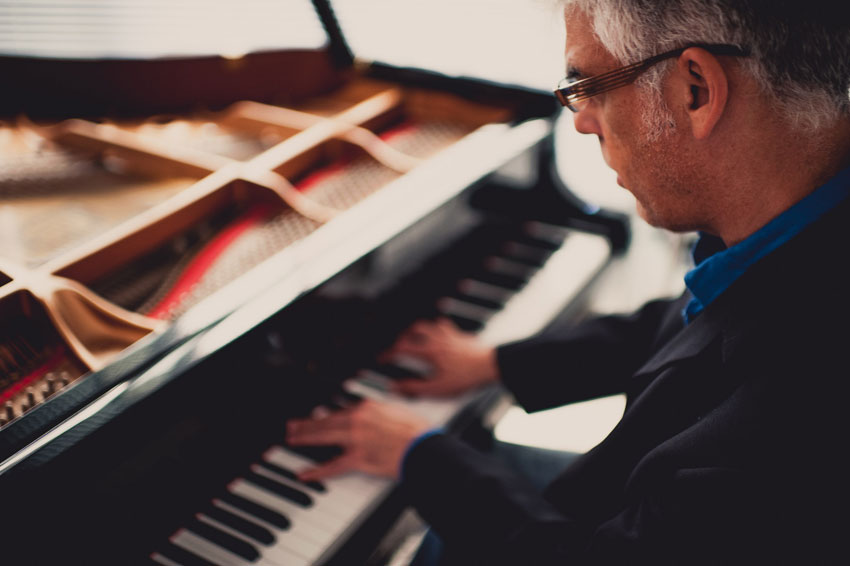 Sense of values trio
El Trio Sense of Values nacio con el objetivo de ampliar la esfera del Jazz a nuevas agrupaciones basadas en la inclusión de instrumentos no convencionales en el mundo del Jazz como el Violonchelo. La suma de las cuerdas con y sin arco, frotadas, punteadas o percutidas pretendía evocar un nuevo universo apoyado en los standard clásicos y más modernos del cancionero americano en un amplio abanico que abarcara desde el Swing al Free pasando por el Bebop o el Jazz modal.
Aportando también las composiciones del pianista Jose Ignacio Hernández, Sense of Values, formado además por el contrabajista Miguel Ángel Pimentel y la chelista Amalia Chueca, propone ser una plataforma en donde cualquier estilo improvisatorio tuviera cabida. La formación del grupo es versatil. Aunque todos se mueven en el terreno del Jazz, también exploran o exploraron otros campos como el acompañamiento de cine mudo en el caso de José Ignacio, la música Arábigo- Andalusí o el Flamenco en Miguel Ángel o la música clásica y contemporánea por parte de Amalia.
Teniendo el grupo aproximadamente un año de vigencia, ha tocado en varios locales de la geografía española, trás la experiencia mantenida por sus miembros en Nueva York, ciudad en la que todos estuvieron tocando. Ampliado el trío de forma usual con colaboraciones varias como Sergio Díaz y Julio Pérez a la batería en su versión cuarteto. Sense of Values está abierto a músicos de diversa índole en su exhaustiva búsqueda del enriquecimiento sonoro.
Sense of values trio
The trio Sense of Values was born with the idea of widening the Jazz sphere to include new groups with unconventional Jazz instruments like the cello and other strings, be them bowed, plucked, or struck. They aim to evoke a new era of Jazz combining classical elements with popular contemporary American music. This wide range of styles is compromised of everything from Swing to Free to Bebop to Modal jazz.
Sense of Values is a versatile grouped formed by double bassist Miguel Ángel Pimentel, cellist Amalia Chueca and playing to compositions of pianist Jose Ignacio Hernández. Together they strive to create a platform where all styles of improvisation are accepted. Although all of its musicians work within the domain of Jazz, they all explore or have explored subgenres of music like Silent movie accompaniment in the case of José Ignacio, Flamenco in the case of Miguel Ángel and classical and contemporary for Amalia Chueca.
After their experiences in New York, Amalia and Jose Ignacio started to work together. In the last year, Sense of Values has played in many venues throughout Spain. The trio played with an array of collaborators such as drummers Julio Perez and Sergio Diaz making them the Sense of Values Quartet. In its search for musical enrichment, Sense of Values remains open to all sorts of musical genres, looking for new and coloristic sounds.